took one of the horse trails into the woods yesterday.
i'm still in awe of the live oaks around here and there were plenty to admire on my walk.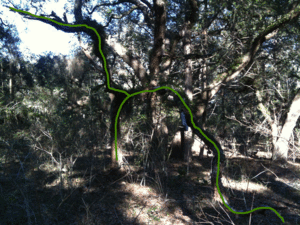 this one had only two limbs that arched outward. i love that they don't grow straight but turn and arch and bend. the picture doesn't do much justice to the limbs so i highlighted them.
it looked like it was reaching out for a hand shake, so i obliged
here's what i mean about multiple trunks rather than a bunch of branches.
they are even attached at the base.
seriously, can't get over these trees!